随着近期普华永道公布了其2016财年(2016/06/30截止)业绩:总业务收入359亿美元,年度同比增长7%(考虑到汇率影响实际增长1.5%)。与此同时,世界最大的会计师事务所易主。
早些时间公布2016年财年业绩的德勤以369亿美元业务收入、年度增长8%的业绩取代普华永道成为全球最大的会计师事务所。

详见一下来自海外媒体的报道:

Title:Deloitte overtakes PwC as world's biggest accountant
Source: The telegraph
PwC has lost its title as the world's biggest professional services firm despite its revenues growing by 7pc to $35.9bn during the past year.

The firm, which only retook the crown from Deloitte a year ago, said that growth was a more modest 1.5pc including the effects of exchange rate movements.
Faced with growing international scrutiny of their audit and tax work, all of the Big Four accountancy companies are picking up clients in new areas such as data analytics, deals advice and management consultancy.
PwC's largest source of business, however, remains with its auditors and assurance teams, which delivered 6pc revenue growth to $15.3bn during the year to the end of June.
The firm expects more work from clients spending on risk management and data security, and has recently announced plans to hire 1,000 technology specialists for its British risk assurance business.
"This is an era of unprecedented scrutiny and the public expects more from business today" said Bob Moritz, who became chairman in July. "We are focused on how we can best serve not just the needs of our core stakeholders but society at large."
Rival outfit Deloitte posted an 8pc rise in annual revenues to $36.9bn last month, after also enjoying strong demand for cyber security and data services.
In the UK and Europe, the two firms along with KPMG and EY have been competing for a wave of statutory audit contracts that are changing hands partly to meet new regulations.
PwC has won lucrative contracts with Vodafone, Santander and HSBC since the rules were introduced two years ago. It has lost work with the supermarkets Sainsbury's and Tesco, which ended its contract after 32 years in the wake of the £250m hole in its supply chain accounting.
The firm has also won valuable work linked to large mergers and acquisitions, which helped expand its tax business by 7pc to produce annual revenues of $9.1bn.
Globally, PwC's Asian business grew the fastest during the year, expanding its revenues by 10pc, while North America climbed 7.5pc to almost $15bn.
Business in Western Europe also picked up, but the relative weakness of the pound and the euro meant that revenues were 2.5pc smaller than last year at $12.3bn.
PwC's clients include 84pc of the world's biggest companies within the Fortune Global 500 index. This includes 96pc of the banks and capital markets firms, 97pc of the car firms and every single entertainment and media company.
Worldwide, the company employs more than 223,000 people, including 58,081 who were hired in the last year alone. This expansion was driven chiefly by new recruits in Asia.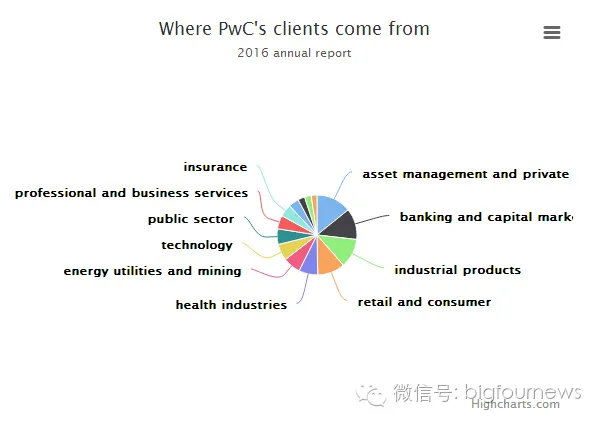 转自四大新鲜事儿